Regular price
RM105.00 MYR
Regular price
Sale price
RM105.00 MYR
Unit price
per
Sale
Sold out
TECH SPECIFICATIONS
BODY DIAMETER: 56,5 mm
BORDER DIAMETER: 60 mm
WALL HEIGHT: 17 mm external
PASSAGE: 200 μm
The integrated membrane shower screen is made of a single filtering part in stainless steel obtained through a process of photo-etching: special micro perforations are made inside the thickness of the shower to obtain a filtering power of 200 μm.
Its main characteristic is the exclusive design of its perforations, which, in addition to guaranteeing better distribution, makes this product last longer and easy to clean. Indeed, being made out of a single part, the shower body is more resistant and its surface is totally smooth and free from rough spots where dirt can deposit and accumulate.
COMPATIBILITY
Ascaso – Baby, Bellezza – Chiara, Bellezza – Chiara leva, Bellezza – Francesca, Bellezza – Francesca Leva, Bellezza – Inizio V, Bellezza – Inizio V Leva, Bellezza – Valentina, Bellezza – Valentina Leva, Bezzera – Aria, Bezzera – Magica, Bezzera – Matrix MN, Bezzera – Mitica, Bezzera – Strega, Bezzera – Unica, Bosco – Sorrento, Casadio – A1, Casadio – Undici, ECM – Classika, ECM – Elektronika, ECM – Mechanika, ECM – Puristika, ECM – Synchronika, ECM – Technika, ECM – V Slim, Expobar – Brewtus, Expobar – Office Leva, Faema – E61, Faema – E71, Faema – President, Faema – Prestige, Faema – Teorema, Gaggia – GX Espresso, Grimac – Aosta, Grimac – Arena, Grimac – BLQ, Grimac – Ducale, Grimac – K2, Grimac – Leva, Grimac – Superior, Iberital – IB7, Iberital – Intenz, Iberital – New, Iberital – Tandem, Isomac – Millenium, Kees Van Der Westen – Mirage, Kees Van Der Westen – Slim Jim, Kees Van Der Westen – Speedster, Kees Van Der Westen – Spirit, La Pavoni – Botticelli, La Pavoni – Cellini, Lelit – Bianca, Lelit – Giulietta, Lelit – Kate, Lelit – MaraX, Profitec – Pro 400, Profitec – Pro 500, Profitec – Pro 600, Profitec – Pro 700, Profitec – Pro 800, Rocket – Appartamento, Rocket – Cronometro, Rocket – E61, Rocket – Giotto, Rocket – Mozzafiato, Rocket – Porta Via, Rocket – R58, Rocket – R60V, Sanremo – Cafè Racer, Sanremo – Cube, Sanremo – Opera, Sanremo – X One, Sanremo – You, Sanremo – Zoe, VBM – Domobar, Wega – Airy, Wega – Io, Wega – Mininova, Wega – MyConcept, Wega – Nova, Wega – Pegaso, Wega – Polaris, Wega – Sphera, Wega – Urban, Wega – Vela Vintage, Wega – Wbar
WARRANTY INFORMATION

All coffee machines and coffee grinders purchased from K-HUBS are covered by a one-year warranty, starting from the date of purchase. This warranty ensures that the equipment is free from defects in material and workmanship under normal use and service.

General Warranty Terms and Conditions for Coffee Equipment:

Warranty Coverage: The warranty covers manufacturing defects and malfunctions that occur during normal use of the coffee machines and coffee grinders. It includes repairs or replacements of defective parts or the entire unit, at the discretion of K-HUBS.
Exclusions: The warranty does not cover damages caused by misuse, accidents, unauthorized repairs, modifications, or any other circumstances beyond normal use. It also does not cover cosmetic damages or wear and tear resulting from regular usage.
Warranty Claim Process: To initiate a warranty claim, customers must provide the original proof of purchase, including the date of purchase and product details. The equipment will be assessed by our authorized service technicians to determine the cause of the defect and the appropriate course of action.
Repair or Replacement: In the event of a warranty claim, K-HUBS reserves the right to repair or replace the equipment or faulty parts, depending on the nature and extent of the defect. The repaired or replaced item will be covered by the remaining duration of the original warranty period.
Shipping and Handling: Any costs associated with shipping the equipment or parts for warranty service will be the responsibility of the customer. K-HUBS will cover the return shipping costs for repaired or replaced items.
Limitations: The warranty provided by K-HUBS is limited to the original purchaser and is not transferable. It is valid only when the equipment is used in accordance with the manufacturer's instructions and guidelines.
Discretionary Warranty: K-HUBS reserves the right to determine the validity of warranty claims and to make the final decision on whether to repair or replace the equipment or parts covered under warranty.
Share
View full details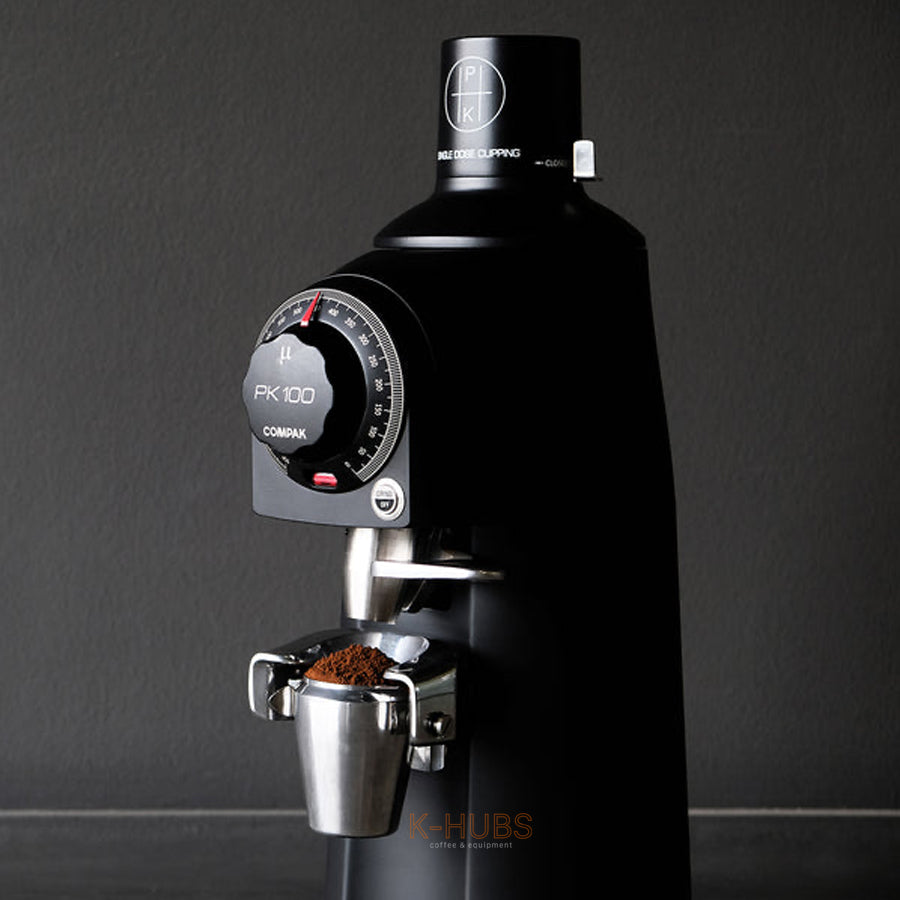 PKLAB 100 SINGLE DOSE
The PK100 is a multipurpose grinder, specially designed for all types of brewing. The single Dose cupping system and the extremely low coffee retention allow for the full spectrum of grind size and brewing methods with a single grinder.
SHOP NOW